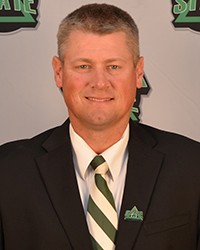 Todd Cooley enters his fifth season as head coach of the Delta State University Statesman football program. In his previous four seasons, Cooley is 26-15 overall (.634) and 15-13 in Gulf South Conference play. He became the 19th coach in program history on Friday, Jan. 25, 2013
In his first campaign as head coach, Cooley guided the Statesmen to a 7-3 overall record and a second place finish in the Gulf South Conference. Inheriting a team that went 3-7 the year before, the high-energy Cooley built a cohesive family atmosphere in less than nine months. That energy helped feed a program's turnaround in just one season. In 2014, Cooley led the Statesmen to a 9-2 record, along with DSU's seventh Gulf South Conference title and a berth in the NCAA Division II Playoffs, the school's first since 2011.
For his efforts, Cooley was named Gulf South Conference Coach of the Year by his peers in the league. In all, 11 Statesmen were named to the All-GSC squad, including GSC Freshman of the Year Tyler Sullivan, who quarterbacked DSU to a 4-1 mark as a starter.
DSU averaged 40.0 points per game offensively, while averaging 472.2 yards per game. The Statesmen pulled off three victories over nationally ranked opponents after defeating No. 21 North Alabama 37-34, No. 14 Tarleton State 38-36 and No. 24 Valdosta State 63-55.
In 2014, Cooley earned his second consecutive GSC Coach of the Year accolade, sharing the honor with Florida Tech's Steve Englehart. Twelve Statesmen were selected to the All-GSC squads, while Trey Shaw captured the league's Defensive Freshman of the Year honor. DSU put up an impressive 5,395 yards of total offense, outscoring opponents 491-215.
With expectations riding high entering the 2015 season, the Statesmen raced out of the gate to a 4-0 record and No. 5 national ranking. Unfortunately, the ride would be short-lived, as injuries began to mount and derailed a title run for DSU. The Statesmen finished the year 6-5 overall and 2-5 in GSC play.
The Statesmen finished the year leading the GSC in passing (312.4), while ranking second in scoring (36.4) and third in total offense (426.7).
In 2016, DSU finished its season ranked No. 3 in the GSC in scoring offense (36.9), total offense (446.8) and passing offense (287.7).
Known as one of the top offensive coordinators in the country, Cooley brought his high-octane system to Delta State after serving as the offensive coordinator at Northwestern Louisiana State University (2009-2012), University of Central Arkansas (2005-2008) and Arkansas Tech University (2004).